How To Make A Public Liability Injury Claim
Although it is nice to think that nothing bad will ever happen to us, the truth is that public liability claims are a necessity for many people. In the following post, we will explain all you need to know about making a public liability claim.
We cover everything from what constitutes a public liability claim to how you go about making one and finding the right person to represent you. If you believe you have been the victim of an accident in public, read on to discover how you can get the compensation you're entitled to.
What Exactly Counts As Public Liability?
Public liability can be explained as the duty of care a business, organisation or individual is responsible or owes the general public to ensure a public area or space is safe for use. Companies are advised to take out public liability insurance to enable them to give compensation to members of the general public who are injured on their property or areas when they are at fault.
What Is a Public Liability Compensation Claim?
A public liability compensation claim, which could also be referred to as a personal injury claim, is making a claim again the owner of a public property if you have had an accident and suffered from an injury.  There are many organisations, public and governmental, that fall under this umbrella term when it comes to making a claim.
What Kinds Of Accidents And Injuries Qualifies For Public Liability Claims?
There is a wide variety of accidents and injuries that qualify a public liability claim, including:
Trips, slips and falls that have been caused by untreated surfaces in winter weather, poorly maintained pavements and footpaths and potholes. This can apply to areas such as car parks, schools shopping centres, supermarkets and damaged stairwells.
Objects causing injuries, either by falling from a height onto the public, or sharp objects that should have been moved or covered over to make them safe.
Obstructions on a footpath road or any other hazards that can cause trips.
Though the above list is not exhaustive, it gives you a good idea of the kind of accidents and injuries you should make a public liability claim against. therefore, if you have experienced any of the above or something similar, should contact a personal injury lawyer to start the claim process.
Can You Make A Claim?
If you have suffered injury or been involved in an small or large accident while in a public area or on public property and it wasn't your fault you could be eligible for a public liability compensation claim. You may be eligible to make a claim against an employer if the accident occurred on public property during your time as an employee because they didn't take due care to ensure your health and safety
What If The Property Or Public Area Owner Does Not Have Public Liability Insurance?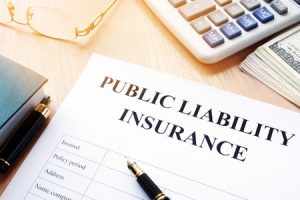 In the event that the owner of the property or the person or organisation responsible for the public area where you suffered from injuries or had an accident does not have public liability insurance, don't worry. You are still eligible to make a claim for compensation.
Rather than the owner is responsible for paying compensation, you would make the public liability claim against the person or party who was at fault. This makes recovering damages harder if they don't have enough money to pay you or they go bust. A personal injury lawyer will be able to help you out and discuss the risks of your claim not being successful.
What Do You Need To Do To Make A Claim?
In order to put forward a successful claim for public liability compensation, you need to prove with clear evidence that the injury was not your fault.
To make your claim stronger, you need to:
Report the incident immediately when it happens to either the owner or the member of staff responsible at the time.
Make sure your accident is recorded in an accident book.
Take contact details of any eyewitnesses of your accident.
Photograph the area the incident happened
If your accident involves uneven or damaged pavements, it is a good idea to use a coin (like a 50p or 10p piece) or ruler and stand it upright in or beside the lump or hole before you take photographs to show the height/depth better.
If you plan to claim expenses along with your public liability claim, including travelling expenses and the costs of prescriptions concerning treatments, you need to keep your receipts as the evidence.
If there are any video cameras or CCTV in the area, you could approach the owners and request a copy which shows the time of your incident. This is more than likely to be the strongest evidence you could obtain when it comes to making a public liability claim.
Learn More About Public Liability Claims
To help with your understanding of making a public liability injury claim, we've included links to some of our most useful pages:
How Do You Start A Public Liability Claim?
There are strict time-frames in place for when you are allowed to make personal liability claims. Therefore, if you are looking to make a claim, you need to start the process within three years of when the accident occurred. However, if you are under the age of 18, and experience an accident that results in an injury, the time limit starts from the date of your birthday when you turn 18.
As personal injury and public liability law are complicated, it is not advisable to put forward a claim representing yourself. It is inevitable that the opposing side would use their legal representative's knowledge to undermine any aspect of your case even if there is video evidence. Make sure you contact a personal injury lawyer with experience in public area accidents, and they will be able to help you out with making a successful claim which sees you receiving the compensation you are entitled to.
From our survey, these are the best public liability lawyers in the UK
Find injury lawyers near me – Contact us for 24 hour free legal advice
You can use our 24 hour free legal advice service to make any enquiries you have about personal injury claims.
Members of our legal advice team are available for free consultations, and could answer any questions you have directly about:
Whether you are eligible to make a claim
How much compensation you could seek for your injuries
How to collect evidence to prove liability in an injury claim
Our advisers could also potentially connect you with one of our injury lawyers near you from our panel, or with one of the lawyers from our panel based elsewhere in the country, to help you make a claim on a No Win No Fee basis. We offer a nationwide service, and could assist you no matter where you are based in the country.
You can reach out to one of our advisers now for information about injury claims, or for more information on the services that our panel of UK personal injury lawyers can provide.
Learn More About Making A Compensation Claim
Below, we've included links to some of our other guides that we think you may find useful:
We also have some other guides you may find useful:
Check out more guides here: