Although it is nice to think that nothing bad will ever happen to us, the truth is that public liability claims are a necessity for many people. In the following post, we will explain all you need to know about making a public liability claim. We cover everything from what constitutes a public liability claim to how you go about making one and finding the right person to represent you. If you believe you have been the victim of an accident in public, read on to discover how you can get the compensation you're entitled to.
What Exactly Counts As Public Liability?
Public liability can be explained as the duty of care a business, organisation or individual is responsible or owes the general public to ensure a public area or space is safe for use. Companies are advised to take out public liability insurance to enable them to give compensation to members of the general public who are injured on their property or areas when they are at fault.
What Is a Public Liability Compensation Claim?
A public liability compensation claim, which could also be referred to as a personal injury claim, is making a claim again the owner of a public property if you have had an accident and suffered from an injury.  There are many organisations, public and governmental, that fall under this umbrella term when it comes to making a claim.
What Kinds Of Accidents And Injuries Qualifies For Public Liability Claims?
There is a wide variety of accidents and injuries that qualify a public liability claim, including:
Trips, slips and falls that have been caused by untreated surfaces in winter weather, poorly maintained pavements and footpaths and potholes. This can apply to areas such as car parks, schools shopping centres, supermarkets and damaged stairwells.
Objects causing injuries, either by falling from a height onto the public, or sharp objects that should have been moved or covered over to make them safe.
Obstructions on a footpath road or any other hazards that can cause trips.
Though the above list is not exhaustive, it gives you a good idea of the kind of accidents and injuries you should make a public liability claim against. therefore, if you have experienced any of the above or something similar, should contact a personal injury lawyer to start the claim process.
Can You Make A Claim?
If you have suffered injury or been involved in an small or large accident while in a public area or on public property and it wasn't your fault you could be eligible for a public liability compensation claim. You may be eligible to make a claim against an employer if the accident occurred on public property during your time as an employee because they didn't take due care to ensure your health and safety
What If The Property Or Public Area Owner Does Not Have Public Liability Insurance?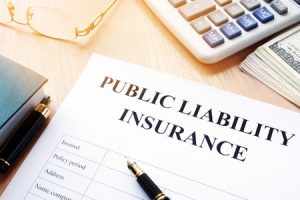 In the event that the owner of the property or the person or organisation responsible for the public area where you suffered from injuries or had an accident does not have public liability insurance, don't worry. You are still eligible to make a claim for compensation.
Rather than the owner is responsible for paying compensation, you would make the public liability claim against the person or party who was at fault. This makes recovering damages harder if they don't have enough money to pay you or they go bust. A personal injury lawyer will be able to help you out and discuss the risks of your claim not being successful.
What Do You Need To Do To Make A Claim?
In order to put forward a successful claim for public liability compensation, you need to prove with clear evidence that the injury was not your fault.
To make your claim stronger, you need to:
Report the incident immediately when it happens to either the owner or the member of staff responsible at the time.
Make sure your accident is recorded in an accident book.
Take contact details of any eyewitnesses of your accident.
Photograph the area the incident happened
If your accident involves uneven or damaged pavements, it is a good idea to use a coin (like a 50p or 10p piece) or ruler and stand it upright in or beside the lump or hole before you take photographs to show the height/depth better.
If you plan to claim expenses along with your public liability claim, including travelling expenses and the costs of prescriptions concerning treatments, you need to keep your receipts as the evidence.
If there are any video cameras or CCTV in the area, you could approach the owners and request a copy which shows the time of your incident. This is more than likely to be the strongest evidence you could obtain when it comes to making a public liability claim.
Learn More About Public Liability Claims
To help with your understanding of making a public liability injury claim, we've included links to some of our most useful pages:
How Do You Start A Public Liability Claim?
There are strict time-frames in place for when you are allowed to make personal liability claims. Therefore, if you are looking to make a claim, you need to start the process within three years of when the accident occurred. However, if you are under the age of 18, and experience an accident that results in an injury, the time limit starts from the date of your birthday when you turn 18.
As personal injury and public liability law are complicated, it is not advisable to put forward a claim representing yourself. It is inevitable that the opposing side would use their legal representative's knowledge to undermine any aspect of your case even if there is video evidence. Make sure you contact a personal injury lawyer with experience in public area accidents, and they will be able to help you out with making a successful claim which sees you receiving the compensation you are entitled to.
From our survey these are the best public liability lawyers in the UK
Learn More About Making A Compensation Claim
Below, we've included links to some of our other guides that we think you may find useful:
We also have some other guides you may find useful:
Check out more guides here:
Every council has a responsibility to ensure the spaces under their control are safe for public use, so far as reasonably possible. Legally, they have to follow strict and important health and safety rules and regulations, such as the Occupiers' Liability Act 1957, to protect members of the public from accidents and injuries.
Therefore, if you have suffered an injury or have been involved in an accident while on a council-owned property, or while employed by the council, you may be entitled to compensation.
If this is the case, you should speak to a personal injury lawyer to see if you have a good case or not.
Local councils are responsible for providing various services and maintaining different spaces in your local area, such as:
Social care
Schools
Public areas and parks
Rubbish disposal and collection
Public transport
Libraries
Leisure and sports facilities
If you have had an accident or suffered an injury as a result of the council's negligence, read on to find out what steps you could take next.
Common Accidents and Injuries Due To Council Negligence
In order to make a successful personal injury claim against the council, you must be able to prove that your injuries were sustained because the council breached the duty of care they owed to you.
Some of the common injuries that can result from this kind of negligence include:
Falls, trips and slips because public areas haven't been properly maintained
Badly maintained equipment causing injuries in schools or council-owned city parks
Poorly maintained roads or potholes causing car accidents and cycling accidents
Injuries during employment with the council
Thorough evidence is necessary to make a successful claim. This evidence includes photographs of the area where the accident took place as well as the cause of the accident, statements from any witnesses, and any medical notes confirming your injuries.
Your lawyer may need to request CCTV footage, if there is any, from the area where the accident took place. Such evidence can prove crucial in establishing what exactly happened.
What Can You Claim?
As every personal injury claim is different, it is hard to say just how much compensation you would be awarded without knowing more about your case. However, compensation will take into account the following:
Suffering and pain from your injuries

This accounts for the physical and psychological damage sustained in the incident. It can range from a few cuts and scrapes to broken bones and paralysis. Generally, the more severe the injury, the greater the level of compensation will be awarded.

The impact in the long-run on the quality of life you have

This deals with the long-term impacts the incident has on your family and social life.

Psychological issues

When an accident occurs, the trauma may not be visible on the outside. Individuals may suffer from Post-Traumatic Stress Disorder (PTSD) and bouts of depression related to the incident.

Loss of earnings due to sick leave or leaving your job altogether

A broken arm or leg can see accident victims off work for a minimum of 6-8 weeks. Their employer may not be able to give that much sick pay, leaving the individual unable to pay basic utilities or their rent or mortgage.

Any travel expenses

Trips to medical professionals, hospitals and other professionals related to your injuries can be included in the compensation award too, as well as any medication costs arising as a result of your injuries.
How To Make A Claim Against The Council If You Are An Employee
If you have been injured during your employment with the council, you could make a claim based on employer negligence.
To succeed, you will need to prove that your employer breached their duty of care and, as a result, you had an accident in which you suffered injuries.
It could be that the council did not provide you or colleagues with the appropriate Personal Protection Equipment or that they failed to give you sufficient health and safety training.
As with any claim, you will need evidence to prove employer negligence was responsible for your accident and injuries. This includes the likes of photographs of the area or hazard that caused the accident; witness statements from colleagues confirming you weren't properly trained or supplied with PPE, or; proof that no warning signs or notices were used to alert you to hazards.
If you're at all unsure what evidence to collect to support your case, get in touch with our knowledgeable team on the number at the top of this page. They'll tell you all you need to know about obtaining evidence.
How To Proceed With Your Personal Liability Compensation Against The Council
It may be the case that you need the support of a personal injury lawyer who has experience handling compensation claims against the council.
As the law on both employer negligence and public liability is complicated, it is not advised that you take on the case yourself, though you can if you wish. However, a personal injury solicitor would be well-versed in the claims process. They will be able to handle the sometimes complex legal procedures, will have knowledge of what evidence to obtain and how to present it to the defendant. And ultimately they will ensure you get the compensation you deserve.
It is important that you don't delay making a compensation claim against the council, as there are timeframes within which you have to make your claim. If you try to make a claim outside of this time-frame, you will not be eligible for compensation.
The time limit, or limitation period, is 3 years from the date of the accident. If the injured person is a child (under 18), a relative or appointed official can process the case on their behalf. If no claim is made, the child, once 18, can make a claim themselves. They will have until their 21st birthday to do so.
No Win No Fee Claims
Most personal injury lawyers work on a No Win No Fee basis. In fact, all of the lawyers on our expert panel work in this way. This means that if you are worried about the costs involved with making a claim, this type of agreement will ease your concerns.
Your lawyer won't expect payment unless they win your case. And even when they do, they will only take a small, legally capped percentage of your compensation award.
If they do not succeed, you will not have to pay any of their fees at all. Plus, there are no upfront or ongoing costs to pay either.
To find out more about how to claim against the local council, or to kickstart your claim today, get in touch with our team. You can reach them by:
Calling us on 0800 408 7825
Or by using the live chat box, bottom right.
Learn More About Making A Compensation Claim
Below, we've included links to some of our other guides that we think you may find useful:
Why not learn more about solicitors in your area?
Accidents and injuries caused to drivers, cyclists and pedestrians by potholes are more common than you think and cost the country many millions in compensation every year. The Highways Agency, local authority and council have a responsibility towards ensuring roads and pavements are maintained to a high standard, and where they are found to have acted negligibly towards the situation you can make a public liability claim for a pothole injury. If you feel you are entitled to make a claim for a pothole injury, read our guide below which covers all of the most frequently asked questions.
What Exactly Is A Pothole?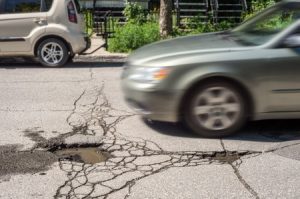 Chipping and cracking can affect a road when extreme weather conditions affect your area. When water seeps into these holes, particularly during winter, they freeze and thaw off. The holes eventually develop into what we call potholes. Extremely large potholes are normally repaired as soon as they can be by the local council or the organisation responsible. A smaller pothole is okay to be left until a suitable repair has been scheduled.
When a car or bike wheel runs over a small pothole it doesn't have much effect. However, larger potholes can prove a serious danger to all road users. They can cause cars to noticeably drop down and change direction, a hazard to pedestrians, and cyclists may even be thrown from their bikes in extreme cases when they hit a deep pothole unaware.
How To Know Who Is Responsible?
It depends on the road you are injured on as to who is responsible for the pothole that caused your accident. For instance, if you experienced an accident on what is known as a 'trunk road', it is generally the responsibility of The Highways Agency. This agency is a part of the Department of Transport and a trunk road normally refers to the main road.
The local council receives funding from the government to maintain its roads. You can report potholes to your local council via their website or by phoning their repairs contact number. If you have reported a pothole that subsequently caused you to have an accident, it will most likely be a positive for your case.
If you fell, slipped tripped or were involved in an accident on a private road as a result of a pothole; the responsibility falls on the property or road owner. To make any claim for personal liability from a pothole injury, you should seek the help and advice of a legal expert.
How Do You Make A Public Liability Claim For A Pothole Injury?
It is relatively easy to make a compensation claim for a pothole injury. Once you have a professional and experienced personal injury lawyer on board, they will help you every step of the way. You could be able to claim not just for the physical injuries you sustained, but also for the psychological injuries you sustained from the accident.
As with all personal injury claims, there is a strict time window you have to make your claim within. Therefore, it is vital you contact a lawyer as soon as you can and put forward your claim, as you only have three years from the date when the accident happened, or you won't be eligible for compensation.
What Does Your Personal Liability Lawyer Need?
In order to make your claim process as quick and easy as possible, your personal liability lawyer may require:
Photographs of the pothole taken at the time of the accident, or soon afterwards.
The contact details, including names, addresses and phone numbers of any eyewitnesses to your accident, and/or the length of time the pothole had been on the road or pavement without it being fixed. If you can find out if the pothole had been reported previously, that's a bonus and could prove negligence.
Detailed list of your injuries, including medical reports from your GP and other medical professionals who may have worked with you or are still working with you.
The date and time of the accident as well as the location.
Further to this evidence, it may be necessary for your personal injury lawyer to request CCTV if there is any, of the accident to help prove it wasn't your fault. If you are in an urban environment, check around to see if there are any cameras which may have picked up the accident and request a copy of the footage.
Alternatively, if you have a dashboard cam or GoPro footage that was filming at the time, this could be a strong piece of evidence to boost your case.r
How Much Compensation Are You Entitled To?
It is hard to say how much compensation you will be awarded, without knowing all the details of your accident and the extent of your injuries. However, personal injury compensation from potholes is split into two distinct categories:
General damages, such as a lump sum of money on behalf of the suffering and pain you experienced.
More specialist damages cover for any financial problems you had as a result of the accident including travel expenses to and from the hospital or other medical institutions, loss of earnings from time off work or stopping work altogether, medical prescriptions, treatments and other appointments.
Personal injury claims can be a very complicated process if you don't have legal support from an experienced and qualified lawyer.  Therefore, it is in your best interest to seek one out, who will take you through the procedure step by step. The great thing is that they normally take on cases for compensation on a 'no win, no fee' basis.  This means that you are not expected to pay for their assistance with your personal injury claim if your claim, for whatever reason, is not successful.
So rather than worrying about whether or not you will have to pay legal fees, take action today and see if you can win compensation that you deserve for the pain, suffering and lifestyle changes you have had to make due to a pothole injury.
Learn More About Making A Compensation Claim
Below, we've included links to some of our other guides that we think you may find useful:
Millions of people each and every day come and go through the doors of shopping centres, shops, petrol stations and supermarkets.  For most, it's an experience free from pain and accidents. However, accidents can happen and the injuries you suffer from in these kinds of incidents can range from minor to severe.
There are many kinds of accidents which can happen in a shop because it is a place where a business and its customers interact directly. There are various health and safety measures to be taken into account by the owner, including appropriate signage and the provision of an environment which is hygienically clean and safe for all ages.
If you have been involved in an accident in a shopping area of any sort, you may be eligible for compensation. In this guide, we will look at the subject in more detail, and you will find out everything from whether your claim is even viable to how much you're able to claim compensation for.
Common Supermarket/Shop Accidents
Although most shop owners and managers do their utmost to protect their staff, customers and other visitors; accidents still happen. Common accidents in a shopping setting, whether it is a shop, shopping centre, or even a supermarket include:
Injuries resulting from shelves and items not being stacked correctly
Damaged or poorly maintained flooring surfaces that can cause trips, slips and falls
Spillages of food and/or liquids, which if they are not dealt with and cleaned up can cause accidents.
If you have suffered from an accident in a shop setting of any kind and have injuries that were not your fault, you may be eligible for compensation.  We don't advice making a claim on your own against a business or corporation as it's likely their resources will be far greater than yours. Instead you should speak to a fully qualified and professional personal liability lawyer with experience in dealing with shop accidents to discuss the possibility of your claim being successful.
What A Public Liability Compensation Claim Can Be Made Against A Shop
Shop owners have managers have a duty of care to customers and other visitors to the store as outlined by the Occupier's Liability Act 1957. However, it doesn't always transpire that this duty of care is followed through on and as a result – accidents and injuries happen with the owner are in breach of the safety rules.
For instance, failing to ensure that the shop has a good inspection record, is kept clean and maintained to a reasonable degree.  Failing to use the appropriate warning notices and signs, when there is a potential risk. When these things are not in place, and you suffer an injury, you may be eligible to claim compensation.
Even if you feel you may be partially responsible, you could still be able to make a compensation claim. To help you out, you need to contact a personal accident lawyer that will be able to tell you if you have a case for a successful compensation claim.
How Much Compensation Can You Claim Against A Shop?
You can claim compensation for any psychological or physical injuries you sustain from an accident in a shop. As well as these though, there are also additional costs you can claim for, including:
Loss of earnings because of time off or leaving your job. Broken bones take weeks to heal and emotional trauma may persist for months.
Cost of OTC and prescription medication that you require directly as a cause of your accident
Physiotherapist and other associated costs for long-term recovery
Assistance and care, if you require help on a daily basis from members of your family with your children, pets, around the house or even when you need to go shopping.
Travel expenses for attending solicitors, medical experts, hospital, GP and anyone else involved in dealing with your accident and the injuries
Replacing or repairing personal possessions that were damaged in the accident such as a mobile phone or item of clothing.
How Can You Make A Personal Injury Compensation Claim?
In order to successfully make a claim, you need to get in contact with a personal injury lawyer who will discuss the details of your accident and injuries to see if you are eligible. They need evidence to prove there was negligence and that the shop owner failed to uphold their duty of care to you as a visitor or customer.
Some of the evidence that will help you with your personal injury compensation claim against a shop, supermarket or shopping centre, includes:
Photographs of the area of the shop where the accident happened, showing proof of the obstructions, damaged flooring or other hazards
Receipts for any travel expenses to and from medical appointments and the cost of medications you required as a result of your accident and injuries
Contact details of any eyewitnesses, including their names, addresses, telephone numbers and email addresses
As all shops, supermarkets and similar public shopping areas have CCTV, your personal injury lawyer will request footage for the time of the accident, if the owner suggests that the hazard hadn't existed long enough for it to be handled appropriately before accidents occurred.
It can be a complicated and often long and drawn-out process, so it is recommended that you avoid representing yourself and putting forward your own claim. You need the help of a professional personal injury lawyer – particularly if they have experience with similar claims for compensation against shops and other public areas and premises. They will help you through the process from start to finish and do their very best to secure a fair level of compensation.
Learn More About Making A Compensation Claim
Below, we've included links to some of our other guides that we think you may find useful:
Why not learn more about solicitors in your area?
Thanks to the busy lives we all lead, accidents can happen all the time and are generally considered a part of everyday life. Although we are unlikely to completely prevent all public accidents from happening, there are a lot of things that we can actually do.
This is particularly important as we have developed a culture of suing. So anytime anyone is involved in an accident or incident and injured, we want to claim compensation. That is fine and that is what we are allowed to do. However, rather than just accepting that this is the way things are, we have tried to highlight in this post some tips and advice for how we can all have a part in reducing the number of compensation claims for public accidents.
Whilst we don't need to become a hypochondriac every time we leave the house, thinking something is bound to happen, it is good to maintain our own levels of awareness and not just to rely on the training of staff in public places when it comes to health and safety. Read on to find out some of the best ways the risk of accidents in public can be reduced, which in turn will bring down the number of public accident claims in the UK.
Education for Prevention
Education to aid prevention is one of the best ways to stop accidents happening which can, in turn, raise compensation claims. Part of the reason accidents happen, its true is negligence and very often people know what they are doing is wrong or dangerous and still take risks.
However, there are often cases when the general public or other people do not know what they are doing or failing to do is dangerous and can cause accidents. This can be prevented, therefore, by increasing awareness and education about the various accidents that can happen in public places.
This education could be in the form of advertising campaigns, better laid-out and more informative guides, pamphlets, leaflets and other forms of correspondence or just ensuring that areas have the correct safety signage and notices up and in clearly marked and visible spots all are able to see.
Health & Safety Training
Another way education comes into preventing accidents or at the very least reducing their frequency, is by ensuring that all staff employed in a public area, whether it's a shop, shopping mall, public park, school, hospital or other similar places, have the correct health and safety training.  Health and safety training should outline the potential risks and dangers they should be aware of based on past incidents and accidents. By actively being aware and on the lookout for these potential hazards, risks and dangers they will be better able to resolve problems before they cause accidents in many situations.
Take for example wet floors in a supermarket or other shopping area. Wet floors happen and obviously, it is best to address this issue as quickly as possible. However, if it has not been caused by a spillage or there is some reason why it is taking a lot longer to resolve; accidents can be involved by directing members of the public to walk around spillages. Obviously, the appropriate wet floor signs and other warning signs should be used, but it would be even better to inform staff of the issue and ensure that they warn the members of the public of areas where the floor is wet.
The same could be said for uneven or damaged flooring. These kinds of surfaces also have the potential to cause accidents with members of the public. However, if maintenance is carried out in a timely manner, accidents can be prevented. If though, you are a store owner or manager of a shopping mall for instance and are waiting for flooring to be fixed or some other hazardous situation to be resolved. You can help prevent accidents by informing staff and members of the public – so that they can be extra vigilant when manoeuvring around and close to hazards.
Members Of The Public Need to Be More Vigilant
As has been covered already a little, members of the public as well as managers, staff and owners of properties and representatives of the council, need to be vigilant. While negligence is a common cause of accidents, there are often times when the person injured in an accident is the one who is largely to blame for the accident in the first place. Public spaces are particularly dangerous because there are often hundreds of people rushing here and there. By being more aware of those around them and taking more care, lots of accidents could be avoided.
It would also be helpful if members of the public paid close attention to warning signs and didn't try to cut corners as the signs are up and certain safety rules are in place for a very good reason. It may seem mundane that a sign for a wet floor prevents you from walking across a certain area, but if it has received any special treatment it may be slippier than normal- especially on stone floors such as marble.
Accidents will happen and even as much as we try to prevent them there will always be something that goes wrong. However, by putting greater effort into prevention rather than treating and dealing with accidents after the fact; following some of the tips outlined above, we could reduce the number of public accident compensation claims made on a yearly basis.
Why not learn more about solicitors in your area?