This guide will explain how to make a warehouse accident claim for compensation. Warehouses can be vast, busy environments. If employers do not implement proper warehouse health and safety precautions, warehouse accidents can occur. To be able to make a warehouse accident claim for compensation your case will need to meet specific criteria.
As we go through this guide we will explain what the personal injury claim criteria are and what types of damages could be awarded in a successful warehouse accident claim.
What Types Of Accidents Can Happen In A Warehouse?
A slip and fall or trip and fall accident
A manual handling accident
Storage and racking accidents
Please contact Public Interest Lawyers today to begin your warehouse accident compensation claim. Our panel of solicitors can value your claim accurately, so you receive the right amount of compensation. To begin your claim, please get in touch with our advisors today by calling 0800 408 7825.
Select A Section
Check Your Eligibility To Make A Warehouse Accident Claim
Under the following circumstances, you could potentially be eligible to pursue a warehouse accident claim for compensation:
Firstly the warehouse employer owes you a duty of care. Under the Health and Safety at Work etc. Act 1974, employers owe their workers a duty of care.
Secondly, through negligence, this duty owed to you was breached. Consequently, the negligence caused an accident.
And finally, because of this negligent action or inaction which lead to an incident you suffered harm that should have been avoided.
Don't hesitate to contact us today to begin your No Win No Fee claim for a warehouse accident.
Common Reasons For Warehouse Accidents
How do warehouse accidents happen? Warehouses can be busy, and accidents can happen if employers do not uphold proper health and safety standards. Here are some examples of hazards that can cause a warehouse accident:
Forklift truck accidents can happen if management has not properly trained employees to drive the vehicle. A worker can be run over or crushed if the driver does not operate the vehicle properly.
A substance hazardous to health can harm a worker. If workers are not provided with the correct personal protective equipment PPE for example, workers may inhale toxic fumes. Consequently, the toxic substances may poison the workers.
Workplaces should signpost a wet floor or slippery floor. And the workplace should clean up the spillage. Otherwise, slip and fall accidents could happen.
Similarly, trip hazards on the floor, such as broken floorboards, can cause trip and fall accidents.
Falls from a height can happen if workers use a broken ladder.
Storage and racking accidents can happen because of faulty shelving systems.
If employers do not train their workers to handle heavy goods properly, they can suffer a back injury.
Common Injuries Caused By Warehouse Accidents
Warehouse employers should follow warehousing health and safety guidance to avoid accidents. However, workers can suffer from warehouse injuries if employers neglect health and safety standards. It is fair to say that not all accidents that happen in a warehouse are the fault of the employer. But to reduce the risks and hazards to employees, employers should risk-assess the work environment and job role.
Examples of warehouse injuries include the following:
Manual handling accidents can cause musculoskeletal injuries. Such as slipped discs or carpal tunnel syndrome.
Slips, trips and falls can cause broken bones if they are serious. Falling can also cause a soft tissue injury, such as a sprain or a strain.
If a falling object hits a worker, this can cause head injuries and traumatic brain injuries. The worker may experience a minor brain injury such as a mild concussion. However, some head injuries result in permanent brain damage.
A worker can experience a crush injury after a forklift truck accident. The crush injury can result in organ damage and multiple broken bones.
If a warehouse accident injured you, please seek medical treatment immediately. Our panel of solicitors will use your diagnosis as medical evidence to support your claim.
Warehouse Health And Safety
Warehouses are potentially hazardous environments. In the UK, employers owe their workers a duty of care. Therefore, the warehouse's employer is responsible for their workers' health and safety. Workplaces must carry out regular risk assessments to identify health and safety hazards. When identified, management should remove the health and safety hazard or apply control measures to minimise the hazard.
Under what circumstances can you claim compensation for an accident at work? If your employer has acted negligently and caused an accident, this breaches your employer's duty of care. If a warehouse accident injured you, you might be eligible to claim compensation.
You will need to provide evidence to prove your injury claim. Your panel of solicitors can use the following evidence:
Medical evidence such as your medical report
Eyewitness statements
CCTV footage of the accident
Photographs of visible injuries
Photographs of the health and safety hazard which caused the workplace accident
Warehouse Accident Statistics
Reporting of Injuries, Diseases and Dangerous Occurrences Regulations 2013 RIDDOR requires workplaces to report specified injuries to the Health and Safety Executive. According to RIDDOR, the following mishaps were the most common causes of non-fatal injuries at work during 2020/21:
Slips, trips and falls account for 33% of accidents at work.
Manual handling accidents account for 18% of accidents at work.
Being struck by a moving object accounts for 10% of accidents at work.
Acts of violence cause 8% of injuries at work.
Falls from a height account for 8% of accidents at work.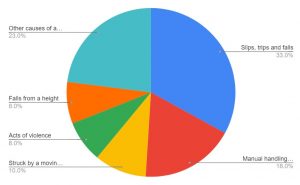 Check Our Warehouse Accident Claim Calculator
If you win your warehouse accident claim, you will receive up to two heads of claim. These include general damages and special damages. Your general damages are the primary compensation payout, compensating you for the harmful effects of being injured. On the other hand, your special damages will repay you for any financial losses incurred by your injuries. For example, you can claim back your medical costs and any loss of earnings.
You can use the table to estimate how much compensation you can claim. We used guideline bracket amounts from the Judicial College in the table that follows. Moreover, solicitors use the Judicial College guidelines to value personal injury claims, alongside the claimant's medical report. However, the compensation table only includes general damages you can claim.
| Type Of Injury | Damages | Comments |
| --- | --- | --- |
| Severe Neck Injuries (ii) | £61,710 to £122,860 | An injury which may involve damage to the cervical spine discs or serious fractures. These injuries could give rise to a disability. |
| Moderate Neck Injuries (ii) | £12,900 to £23,460 | Instances of wrenching-type or other soft tissue injuries, which results in cervical spondylosis. |
| Work-Related Upper Limb Disorders (a) | £20,560 to £21,700 | There is a continuing bilateral disability. The person has lost their job and requires surgery. |
| Work-Related Upper Limb Disorders (b) | £13,970 to £15,330 | The disorder or injury is continuing, but fluctuates and presents with unilateral symptoms. |
| Sever Leg Injuries -Moderate Leg Injury (iv) | £26,050 to £36,790 | Multiple or complicated bone fractures affecting one leg. This may be caused by a severe crush accident. |
| Moderately Severe Brain Damage | £205,580 to £264,650 | This person has a serious disability. They are substantially dependent on other people and require professional care. |
| Moderate Brain Damage (i) | £140,870 to £205,580 | Severe to moderate intellectual deficits with changes to the personality and effects on senses such as sight as well as speech. |
| Moderate Back Injury (i) | £26,050 to £36,390 | Compression or crush fractures of the lumbar vertebrae. There is substantial future risk of osteoarthritis. This injury may also cause discomfort and pain. |
| Less Serious Hand Injury | £13,570 to £27,220 | Severe crush injuries to the hand which significantly impair its function. This is despite undergoing surgery. |
| Moderate Hand Injury | £5,260 to £12,460 | Damage to soft tissue such as caused by deep lacerations or penetrating wounds. May also include crush injuries. |
Depending on the circumstances of your claim, the compensation payout you receive may vary. Please call our helpline, and a claims advisor can value your compensation payout.
See If Our Warehouse Accident Claim Calculator Could Help You
Please contact Public Interest Lawyers today to begin your warehouse accident claim. If our expert claim advisors can see that your case has a good foundation they can offer to connect you with expert solicitors who have solid experience handling accident at work claims. What's more, you could fund your legal team by making a No Win No Fee claim.
When you make a claim with No Win No Fee solicitors a contract called a Conditional Fee Agreement will be sent to you. A CFA means that you won't pay a fee unless you win your claim, reducing the financial risk. Furthermore, you can claim with confidence because solicitors will only take on a No Win No Fee claim if there is adequate supporting evidence.
Please contact us today to claim compensation for a warehouse accident. Call us on 0800 408 7825. Or use our Live Support widget to ask a claims advisor a question.
Helpful Resources
You may wish to learn more about making a compensation claim for an accident in the workplace. You may find these guides helpful.
Carbon Monoxide Poisoning at Work Compensation Claims
Do I Get Paid If I Get Injured At Work?
Factory Forklift Accident Claims
Occupational diseases that are reportable to RIDDOR
A guide to protecting workers from asbestos
An NHS guide to the symptoms and treatment of a slipped disc
Thank you for reading our guide to making a warehouse accident claim.