Welcome to our guide answering the question, 'how much compensation for being knocked off my bicycle?'. If you've been involved in a  bicycle crash due to negligence of another road user and injured, you could potentially claim compensation in a personal injury claim. 
On the roads, all road users have a duty of care. This means they have to adhere to the average motorist's standards of care and skill. The duty of care extends to cyclists, pedestrians, and scooter riders, they must also adhere to the guidance in The Highway Code. 
When a road user breaches this duty of care, accidents could happen, and people could come to harm. In order to make a road traffic accident claim those who owed you a duty of care must be liable for the accident because they were negligent. If you are wholly responsible for your own accident then you would not be able to claim. If you've been knocked off your bike in an accident and harmed as a result, you could potentially claim compensation from the faulting party. 
Read on to find out more about how much compensation for being knocked off your bicycle you could claim. You could also contact our team of advisors about your claim directly. They can provide personalised and free of charge legal advice about your case. They may also pass you on to a solicitor from our panel, who could help you start your claim today. 
Select A Section
How Could You Be Knocked Off Your Bike?   
There are many ways you could potentially be knocked off your bike. This section will look at some of those possible causes in more detail. 
Car Dooring Accidents
Car dooring occurs when a vehicle door is opened into the path of another road user, such as a cyclist. This could happen if a passenger or driver gets in or out of the vehicle without checking for other road users first.
If someone opened their car door without taking the proper care to look for oncoming hazards, you could potentially be knocked off your bike and harmed. 
Drivers Failing To Observe Cyclists
In some cases, a driver may be being negligent if they are not taking the proper precautions to observe the road when driving. Drivers should be ensuring to check all mirrors and blind spots before setting off and during the journey. If they're not doing this, it could cause an accident. 
If this leads to you being knocked off your bicycle and harmed, you could potentially claim compensation. 
Accidents When Changing Lanes And Merging
Sometimes, a driver may need to change or merge into a different lane on the roads. When this happens, the driver's space on the road is getting narrower, and they may neglect to look out for cyclists riding at the edge of the road. 
However, they should be ensuring to check before changing or merging lanes. If mirrors are checked, accidents are less likely to happen. 
Vehicles Not Leaving Sufficient Space
Occasionally, a driver may drive too close to the curb or potentially in the designated cycle lane. If a cycle lane has a solid border, drivers should not be entering that zone at all, except for making a turn.  
If cars obstruct spaces designated for cyclists, this could cause collisions or other forms of accident and injury. 
Reversing Out Of A Driveway
When a vehicle is reversing out of a driveway, there may be obstructions at the end, making it difficult to see, or they may have to reverse directly into a busy road. Regardless, drivers still have to take every precaution to keep others safe around them. Drivers are advised to check their blind spot, rear-view mirror and possibly turn around to get a good view behind them. 
If a driver did not take the correct precautions or perhaps moved too quickly, this could lead to an accident where you are knocked off your bicycle. 
Poor Road Maintenance
If a public road is poorly maintained or there is a hazardous road defect, this could be an issue with road users. 
For example, a large pothole on a road could cause a road traffic accident. 
It is possible to claim against your local council. This is under the Occupiers' Liability Act 1957, as the council can be considered the occupier of many public spaces, such as parks, roads and gyms. However, they must be proven to be liable. 
Other Road Users
There are many ways a cyclist can be injured while on the roads. Above we have looked at how vehicles can cause injuries to those riding bicycles and how damaged road surfaces may also cause accidents, but what about other roads users. Other bicycle users, motorcycle users, pedestrians, those who use e-scooters could all be responsible for causing accidents. Moreover, the cyclist themselves could also be at fault.
If you are unsure as to who may be liable for your accident call our team of advisors today.
What Injuries Could You Suffer?
Being knocked off your bike could result in a variety of injuries. You could suffer a head or brain injury, cuts, lacerations, breaks and fractures. 
For example, if you were knocked off your bike and hit an obstacle during your fall, you could suffer laceration injuries and possibly an arm fracture.
Or, if you were a victim of car dooring, you may have serious bruising just from the door hitting you. 
This section is not exhaustive. If you've been hurt in another way by being knocked off your bicycle, you may still be eligible to claim compensation. 
Cycling Accident Statistics
The Department for Transport is a branch of the government that gathers data on road traffic accidents and their causes. According to some of their recent statistics, 4,215 cyclists were seriously injured, and 11,938 cyclists were slightly injured in accidents in 2020. Statistics also show that 141 cycling accidents in 2020 resulted in fatal injury. 
This graph shows the contributing factors attributed to bicycle accidents between 2015-2020. It is important to note that the contributing factors should be looked at with caution.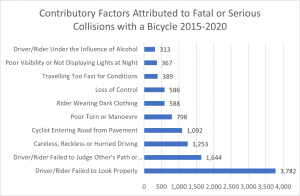 Do The Civil Liability Act 2018 And Whiplash Reform Regulations Apply?
The Civil Liability Act 2018 and the Whiplash Reform Regulations sets a new way whiplash claims are conducted. Whiplash is a set of symptoms that look at soft tissue injury in the neck, back, or shoulder associated with a ligament, muscle, or tendon. It could also be a tear rupture, strain, sprain or lesser damage of a muscle, tendon or ligament in the back, neck or shoulder. 
The Whiplash Injury Regulations 2021 includes an official tariff of injuries that can be claimed through the Whiplash Reform Programme. The new whiplash claim rules mean that injuries valued under £5,000 now have to be dealt with using an online portal. 
However, this is only applicable to drivers and passengers over the age of 18. As a pedestrian, cyclist or scooter rider, these regulations would not apply to you.
To find out more about how these Acts work, get in touch with our advisors for more information. 
What Should I Do After A Cycling Accident?
If someone has knocked you off your bike and harmed you, we first recommend that you seek medical attention. This could be by ringing 111 or visiting your registered GP. For more serious injuries, you may need to call 999 or find your nearest emergency service. 
Once you have sought medical attention, you may consider gathering evidence. If you are not liable for the accident but a third party is who failed to uphold the duty of care they owed you then you could consider making a personal injury claim. You can do this independently, but we always recommend hiring a solicitor, as they will have the requisite experience to know what evidence types will make your case the strongest. This could include:
You can also hire a solicitor to help you with your claim. You should know that the solicitors on our panel are experienced in personal injury claims and will be able to support you at every step of the claims process. Get in touch with our team of advisors today to find out more. 
How Much Compensation Could I Get For Being Knocked Off My Bicycle?
This section aims to answer the question, 'how much compensation for being knocked off my bicycle can I claim?' using a table of possible compensation amounts. 
These figures are calculated from past case studies, so they are not guaranteed. They are taken from the Judicial College Guidelines, a document legal professionals use to help value general damages in a personal injury claim. General damages is the element of your claim that aims to compensate you for the pain and suffering your injuries have caused. 
You will also be invited to an independent medical appointment as part of the claims process. A medical professional will evaluate your injuries and the effect they may continue to have on you in the future for a more accurate estimate of how much you could claim in general damages. The findings of this appointment will be key evidence in your case. 
| Injury | Severity | Amount | Notes |
| --- | --- | --- | --- |
| Brain | Less Severe | £14,380 to £40,410 | A good recovery will have been made and a return to normal social and work life will have happened. Some functions may still be limited, leading to issues with concentration, memory or mood. |
| Head | Minor | £2,070 to £11,980 | Brain damage will have been minimal, if present at all. |
| Male Reproductive System | (e) | £52,620 to £66,970 | Uncomplicated case of sterility without impotence. |
| Neck | Moderate (i) | £23,460 to £36,120 | Fractures or dislocations that cause immediate and severe symptoms that may necessitate spinal fusion. Could also cover chronic conditions or serious soft tissue injuries to the neck and back combined. There will be markedly impaired function and a limitation of activities. |
| Shoulder | Minor (i) | £4,080 to £7,410 | Soft tissue injury to the shoulder that results in considerable pain. An almost complete recovery will have been made in less than 2 years. |
| Clavicle | (e) | £4,830 to £11,490 | Fracture will be judged upon the level of related disability, lasting symptoms and whether temporary or permanent. |
| Arm | (d) | £6,190 to £18,020 | Simple fracture of the forearm. |
| Wrist | (c) | £11,820 to £22,990 | Injury will have resulted in some permanent disability, such as persisting pain and stiffness. |
| Hand | (f) | Up to £34,480 | Severe fractures of the fingers that may lead to partial amputation. The result will be some kind of deformity, impairment of grip and reduced function. |
| Knee | Moderate (ii) | Up to £12,900 | Less serious dislocations or torn cartilage. Possible lacerations, twisting or bruising. There may be continuous aching, discomfort or pain. |
You could also claim special damages. This aims to reimburse you for specific financial loss relating to your accident or injuries. You could also claim for potential future losses. This could include:
To claim special damages, you need to provide evidence that your loss was a direct result of your accident. This could be receipts for travel or payslips for lost wages. 
Working With A No Win No Fee Bicycle Accident Solicitor
We hope you now understand a little more about how much compensation for being knocked off your bicycle you could claim. But you may still be concerned about hiring a solicitor because of the possible fees attached. 
The solicitors on our panel offer their services on a No Win No Fee basis. This means you won't be expected to pay for any upfront or ongoing costs relating to your claim. It also means you are not required to pay your solicitor if your claim is unsuccessful.
However, your solicitor will deduct a success fee from your compensation as payment if your claim does succeed. This fee will only be deducted by your solicitor when your compensation is fully paid. It is also legally capped, which means you get to keep the majority of your compensation.
If you think a No Win No Fee agreement could benefit you, why not get in touch with us today? Speak to our team of advisors to find out more. They could also pass you on to a solicitor from our panel, who could help you start your claim. 
Related Bicycle Accident Claim Guides
Thank you for reading our guide about how much compensation for being knocked off your bicycle you could claim. For more related guides, please see below. 
Cycle Accident Compensation Claims – Learn how to claim for general cycle accidents. 
Compensation for a Broken Forearm – Our guide can explain how to claim for a broken forearm. 
Accident in a Public Road Compensation – If you've had an accident on a public road, our article can explain how you could claim compensation. 
Road Traffic Act 1988 – This legislation outlines correct behaviour on the roads to keep people safe.
THINK! – This is a road safety campaign run by the government. 
Request CCTV Footage of Yourself – If you need CCTV footage as evidence, this Government page explains how you can request it. 
Thank you for reading our guide answering the question, 'how much compensation for being knocked off my bicycle can I claim?'.